Waist trainers are a type of undergarment that is worn around the stomach and abdomen. Usually made with thicker fabric, waist trainers can help to cinch and shape the midsection. It also helps the wearer to lose weight in that area especially when worn during a workout.
If you are planning to start a wholesale waist trainer business and would like to know where to customize the waist trainer, well you are in luck. This article will let you know where you can buy wholesale waist trainers and also customize them for your business.
Finding A Manufacturer
The first step is to purchase the waist trainers directly from the manufacturer. As you are just starting up, you may have a limited budget so it is important to work with a waist trainer manufacturer that offers low minimum orders. It is equally important to find a manufacturer that sells a wide range of high-quality waist trainers, has fast shipping, and offers competitive prices. One of the leading shapewear manufacturers that tick all the boxes is Waistdear. This leading online retailer aims to design and create versatile high-quality undergarments that effectively shape the torso, tummy, thighs and hips while supporting women's beautiful curves. With over 10 years of experience in shapewear manufacturing, Waistdear has its own research and development team to create the latest designs and has helped over 4000 business start-up and wholesalers to scale their business.
Customizing Your Waist Trainer
It is a good idea to build a brand for your waist trainer business by customizing them. It can be done by private labeling your waist trainers. This will help your customers to identify your brand and also help your business to stand out from your competitors.
Waistdear offers all the convenience for their customers. After placing the order for the waist trainer, you can send the logo to their customer service which will help to confirm the logo design, mock-up and measurement. Once everything is confirmed, Waistdear will process the logo printing. The next step is to sit back and wait for the arrival of your customized waist trainers.
Types Of Waist Trainers With Logo
Ahead are some of the popular waist trainers with logos that you can find at Waistdear.
Latex Double Belt Waist Trainer
This powerful workout waist trainer offers maximum compression with its double belt, adjustable zipper and 4 lines of clips. It can snatch the waist instantly. This garment also features 7 steel bones to prevent rolling down. It also has a pocket to keep the phone or keys for convenience. This waist trainer will ramp up the heat and makes the wearer sweat more.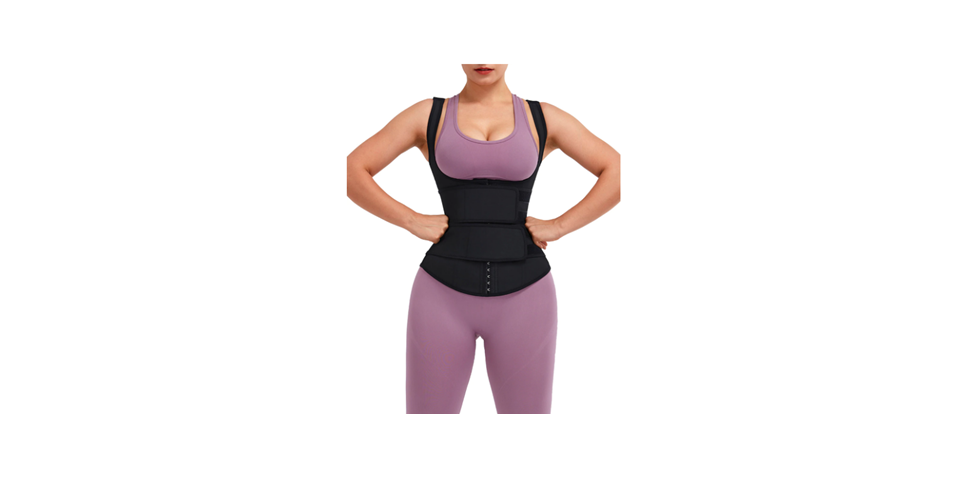 Shape My Day Black 9 Steel Bones Waist Trainer Vest
This sculpting vest waist trainer features high compression latex, double belt, hook and eye closures and is reinforced with 9 flexible steel bones for maximum effectiveness. It is designed with shoulder straps for added support to the bust and back. This vest-style waist trainer can instantly sculpt the midsection and helps the wearer to stand taller and straighter for better posture.
Curve Creator Waist Trainer
For those looking for the ultimate waist trainer that can be worn anywhere, this curve creator piece is the one. It offers firm compression to keep the midsection smooth and under control with its 3 high elastic mesh layers. The 9 flexible boning supports the spine and waist. Its upper W-shape design offers support to the chest.