If you are going to look back at the popular fashion jewels in the past years, then you'll see that iced-out is quite a blast in the late 80s to 90s but it has been playing an important role to everybody nowadays. Let's say that trends just keep on coming back so we cannot get away from them forever, instead, we can wait when people will take them in again in their style. Anyway, there is no problem if such pieces of stuff will be off the show because some people like to keep them safe, while others don't mind buying whatever's trending.
Anyway, if you are going to check what's latest in today's fashion world, then you'll see that one of the hot items is either gold or silver chains designed with white stones or diamonds. The iced out silver tennis chain is found among the top lists of various sellers online and there's no doubt about that because these pieces of jewelry have always been in the circle. Imagine wearing a necklace with precious metal and stone and you'll end up grabbing one from the most reliable shops in your place.
Indeed gold is more expensive but such stones look great with silver as well because it will sparkle more and the icy effect shows the most so which makes it even more luxurious. Aside from the gorgeous impact on the person who is putting these necklaces or chains on, there are things that you have to look after when you are purchasing one. Well, everything would be of your preference since you know well what looks best on you but for your guidance, it is ideal to check on the details of the jewelry that you would be investing in.
Type of Stone
Most iced-out jewelsare usually a set with either diamonds or cubic zirconia as the gemstone. Of course, the majority of us are wishing to acquire diamond jewelry, but this isn't always feasible given that genuine pieces of these stones can cost hundreds of pounds and even millions in some cases. That's why we cannot stop other people from buying imitations since that's all they can afford to get.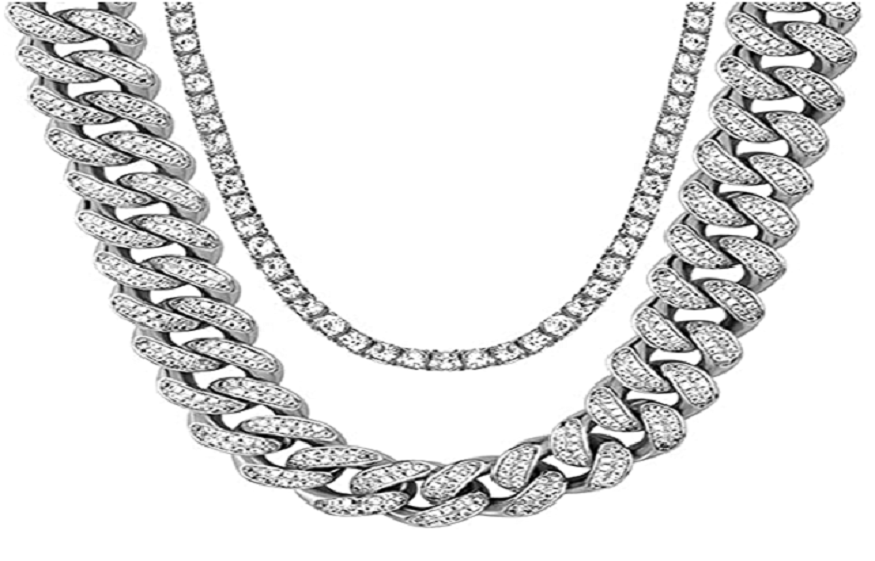 Cubic zirconia commonly referred to as the "lab-made diamond," provides a less expensive alternative without compromising quality. That's because it is created in a controlled setting or atmosphere, cubic zirconia frequently has a more stunning appearance than genuine ones. There's a reason it's so well-liked for creating an iced-out effect—it costs merely a fraction of what the alternative does – see https://en.wikipedia.org/wiki/Cubic_zirconia and read more.
Coordination
If you're seeking to get a Cuban link chain, then it will be much more outstanding when worn with a bracelet as well. This looks so much better when worn in pairs. The purchase of a set made of platinum, or white gold may be out of place if you frequently put on precious metals like gold.
You can even match your jewelry to your outfit, depending on how far you want to use this. For instance, an animal head pendant designed with red enamel eyes could be ideal if you frequently wear red sneakers or sweatshirts.
Styles or Designs
The style should be the first factor taken into account while purchasing iced-out jewelry. Would you prefer a belcher, rope, Miami Cuban, or a style that is something more unusual if you were seeking a chain? You have to decide thoroughly so give it a thought.
Now, if you prefer understated set designs, then choose a more pronounced item with a pendant of your choice. Take a cue from some of the eye-catching looks worn by well-known rappers like Drake, Quavo, and T-Pain. They are just a few of the many celebrities who inspire millions of supporters who also acknowledge such jewels – look atthis page, she's one of them, too.
The 4 C's
All stones like diamonds should be graded for each of the four C's. We have the cut, color, carat, and clarity. It has to be certified by the WGI –  World Gemological Institute or GIA – Gemological Institute of America.
Pay particular attention to the diamond's cut because it affects the dazzle of your gemstones. Your diamonds will appear dull if they are cut improperly, either too shallowly or too deeply.
Additionally, it's crucial to take into account the diamond's color, which is rated from D  orColourlessto Z or light, and its clarity, which is rated from FL or flawless to I3 or included. The carat or weight of your diamond is the least of your concern.